The underside of a nondescript New York bridge has been given a rather festive makeover by a local artist. Michael Neff, the man in question, had had his scheduled display in a conventional gallery delayed, so decided to hang his eight Christmas trees of varying sizes from the underside of the Brooklyn-Queens Expressway where all the passing traffic could see them instead.
The trees, swinging nonchalantly in the breeze, look superb and definitely bring a drab and grey roadway to life. Whether or not they'll still be there when the Christmas parties 2012 season rolls around is another thing but with New York's famously icy winters blanketing everything in white these trees should provide a welcome burst of colour. As you can see from the picture below, they are well protected from the elements!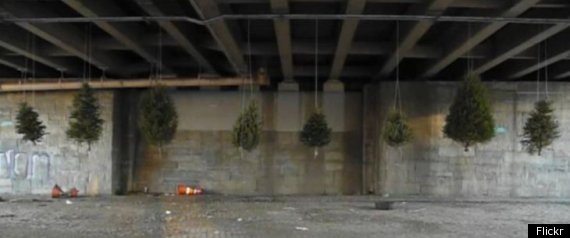 The news comes hot on the heels of other Stateside goings on that we reported on last week, namely the move by New Orleans' city council to recycle Christmas trees for use in coastal restoration. We've considered getting in touch with Neff in order to commission him to provide some foliage-focused artwork for a Christmas party or two of ours later this year and then that made us think of another idea.
We'd like you guys to submit your crazy ideas for festive art that could bring any number of parties to life this year. As you can see from an earlier post we managed to turn an empty room in Nottingham into a beautifully decorated and authentic-feeling 'Speakeasy'-type drinking den. But in terms of the more traditional Christmas party nights we want to hear what you've got in mind. It could be a Banksy-style graffiti painting on the walls, some kind of festive fountain to welcome guests or even a hand-sculpted model of Father Christmas. Get those thinking caps on people, the 2012 festive season needs you already!